CHIM NCE guide
The Canadian College of Health Information Management is the certifying body for health information national certification examinations in Canada. CHIMA, Canada's health information management association, is the examination host and responsible for delivering an online proctoring service to all candidates.
Please read this Certified in Health Information Management (CHIM) national certification examination (NCE) guide in full before applying.
Section 1: About the CHIM NCE
The CHIM NCE consists of 154 randomized multiple-choice questions and is 210 minutes in duration. Each correct multiple-choice question is worth one mark.
A passing grade is based on the following two requirements:
An overall grade of 60% or higher, and;
All sectional grades to be 50% or higher.
The examination is divided into three sections covering seven practice areas:
| Practice area | Section(s) |
| --- | --- |
| Biomedical sciences | 1 |
| Health information science (including coding theory) | 1 |
| Health information analysis | 2 |
| Information systems and technology | 2 |
| Access and security | 3 |
| The health care system in Canada | 3 |
| Ethics and practice | 1, 2, 3 |
Re-examination
A candidate who is unsuccessful writing the CHIM NCE on the first attempt may re-write the examination twice more
(for a total of three times). Regular pricing applies for subsequent attempts. The exam candidate must complete the entire
examination each time. If a candidate has failed all three attempts, a further review will be conducted.
Section 2: Examination application
Quick links
Please review the following information before applying for the CHIM NCE:
Ensure CHIMA membership is active
An active membership with CHIMA is required during both the application process and when writing the CHIM NCE.
Submit application and payment
In order to register for the CHIM NCE, candidates must submit an application and provide payment. Payment will need to be received on or before the application deadline. To access the CHIM national certification application, please follow these steps:
Sign in to your CHIMA account, accessible in the top right corner of the screen
Click on your name to access your dashboard
Scroll down to 'Canadian College of Health Information Management' and select 'Manage'
Navigate to 'National certification applications' and click learn more
Navigate to 'CHIM' and select 'Apply here'
Applicants are responsible for reviewing all information to ensure it is correct in both the application and the CHIMA membership profile.
Transcript requirement
This is a one-time submission to the Canadian College of Health Information Management.
Transcripts are required to be received on or before the application deadline. CHIMA is not able to request a candidate's transcript from an institution as they contain personal information. It is suggested that candidates confirm their program's policy for submitting transcripts to CHIMA. Candidates will not be notified of the receipt of their transcript.
| Eligibility pathway | Transcript required |
| --- | --- |
| Accredited health information management program | Yes |
| Reciprocal agreement (HIMAA, AHIMA, KAHIME) | Not applicable |
For transcript submission, choose from one of the following methods:
Electronic
Electronic transcripts are accepted only when received directly from an institution. They must be scanned individually as a PDF, saved as 'lastname_firstname_institution,' and emailed to [email protected].
Mail-in
Both an institution and exam candidate can mail a sealed, original copy to the following address:
CHIMA
Attn: Examinations
201 King St.
London, Ontario
N6A 1C9
Section 3: Preparing for the examination
Studying
The following resources may help prepare candidates with writing the CHIM NCE:
Meeting technology requirements
Section 4: Writing the examination
Booking an examination date and time
Approved candidates will receive an email from CHIMA to schedule an examination date and time. The time slots will be based on availability during eastern standard time business hours (Monday to Friday, with the exception of statutory holidays). This email is sent out 2–3 days following the application deadline.
What to bring
Calculators
Candidates writing the CHIM NCE may bring battery-operated, non-programmable, non-scientific calculators into the
examination with basic arithmetic functions.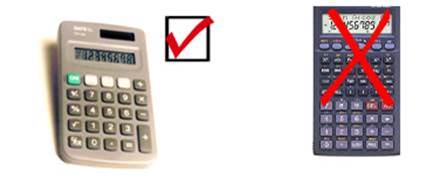 Paper
Candidates may use pencils and a piece of scrap paper during the examination. Candidates must dispose of all scrap paper immediately following the examination.
Important steps for examination day
Due to COVID-19, many candidates will be writing from home with other household members present. We ask that you limit the number of people who are connected to the internet to ensure there are no interruptions to the examination.
The following are six important steps that must occur the day of your examination:
Make sure the computer is connected to a power source.
Re-download the proctoring software 15-minutes before your examination start time. This proctoring software is only valid for the time that it is open on your device. Please do not close this software. Candidates must enter their name when the session box comes up so that the proctor can recognize it. Please see the example below:
Conduct the quick tests for internet speed, microphone, camera, and proctoring software found on the CHIMA NCE online proctoring guidelines page.
Arrive prepared with one form of valid (not expired) government-issued photo identification for the proctor. It must contain the candidate's photograph and signature.
Sign in to the CHIMA dashboard at the scheduled appointment time
Ensure the phone number associated with the CHIM NCE application is charged and ready to accept a call from the proctor to start the authentication process. The proctor will call you at the exact time of your appointment.
The proctor will provide access to the examination once a recording has begun. The proctor's video screen will be turned off during examination writing as to not distract the candidate. Candidates can get the proctor's attention by using the chat function or by calling CHIMA's proctoring support number.
Email questions on examination day to [email protected] or call 1-519-800-8300.
Section 5: Receiving results
Candidates will be able to view their grades by signing in to their CHIMA dashboard. Please select 'Canadian College of Health Information Management' and navigate to 'Examination history'. Grades are posted approximately 20 business days* after the examination period ends. Candidates who passed will receive an official certificate from the Canadian College of Health Information Management and a welcome letter in the mail within 45 business days*.
* At times, the College could run outside of these service level agreements due to extenuating circumstances.
---
Last updated 2021-03-12